What is the Bookmobile?
The Bookmobile is a small branch of the library, on wheels! It travels to the four corners of the district and carries most types of materials that are available at the Sandpoint or Clark Fork branches.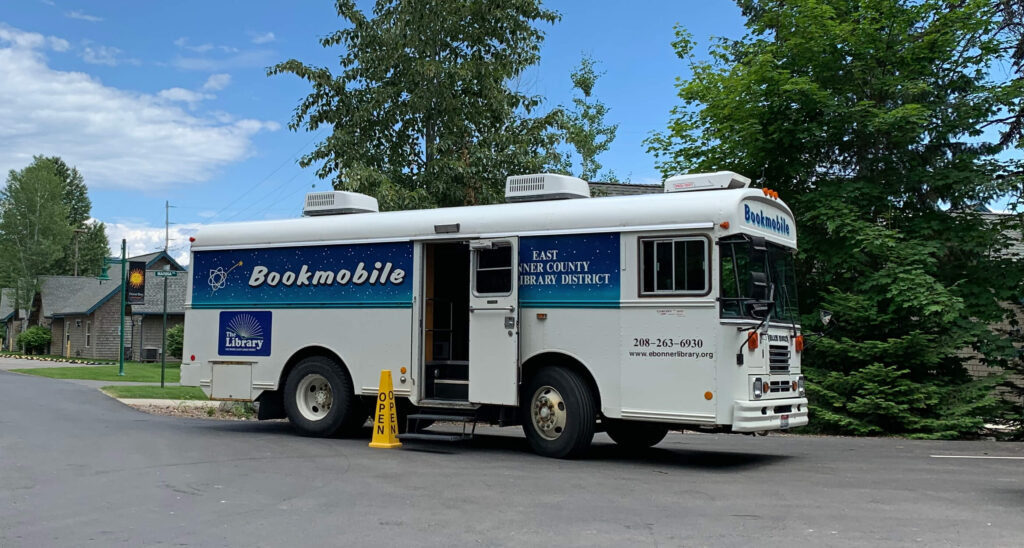 Monday
11:00 – 12:30 – Dover (Starting May 1st)
Tuesday
10:00 – 10:30 – Pack River Store
11:00 – 12:00 – Selle Valley Carden School
12:30 – 3:00 – Samuels Store
Wednesday
10:00 – 11:30 – Vay Market
12:30 – 1:30 – Careywood Fire Station
2:00 – 3:00 – Westmond Store
Thursday
10:15 – 11:00 – School Visits
12:00 – 2:30 – Old Hope School
Saturday
9:00 – 1:00 – Farmer's Market (May – October)
Closed all federal holidays.
How can I use the Bookmobile?
When you see us at a stop, come in and explore. A selection of materials are available for you to check out. You can even use our free wifi. You can also request any library item and the Bookmobile staff will bring it to you at your preferred stop when it is available. Be sure to select the Bookmobile as the hold location.
Anything that is checked out from the Bookmobile can be returned to the Bookmobile at any of the stops, to the Clark Fork Library or the Sandpoint Library.
A New Bookmobile
The mission of the Library District is to provide access to opportunities for discovery, connection, and lifelong learning.  In order to serve the whole district as widely as possible and to fulfill this mission statement, the Bookmobile was purchased in 2000.
The Bookmobile has served the Library District for over 20 years and it's for the big bus to retire! The Library is currently in the process of purchasing a new bookmobile.
Timeline
Spring/Summer 2022
The Library opened a Request for Proposal to design and build a new bookmobile. The winning bidder was TechOps Speciality Vehicles.
Winter 2023
The Library opened a Request for Artist. Local artist/illustrator, Katya Greimes was hired to design the exterior of our new Bookmobile Sprinter Van.
Fall 2023
Our new Bookmobile will be here!
Contact the Bookmobile Staff