1,000 Books Before Kindergarten
An ongoing reading challenge to encourage families to read 1,000 books with their children before they enter Kindergarten.
Get your child ready to read by reading to them. At 100 books, they earn a book bag. They can also earn picture books and iron-on patches for their book bag.
Track your reading at ebonnerlibrary.beanstack.org or download the Beanstack app.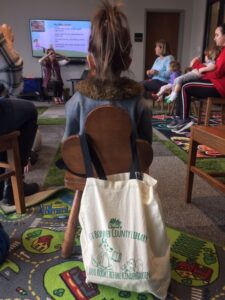 Read Aloud Challenge
Open to families with elementary school children.
Read aloud to your children 4-5 days a week from November 21st – January 3rd and be entered in a drawing to win books & dinner.
Stop by any library branch for your pledge or print the pledge and reading list here.
How to participate:
Fill out and turn-in the Read-Aloud Pledge. The first 40 people to register get a free read-aloud book– there are several choices.
Keep track of the books you read – read at least one chapter book!
Turn in your reading list by Friday, January 7th. We will draw a winner on Monday, January 10th. The winning family will choose a second read-aloud book AND receive a gift certificate for pizza.

Teen Reading Without Walls Challenge
Open to everyone ages 12-18.
Complete all 4 challenges to win a prize!
Read a book about a character who doesn't look like you or live like you.
Read a book about a topic you don't know much about.
Read a book in a format that you don't usually read for fun. This might be a chapter book, a graphic novel, a book in verse, a picture book, or a hybrid book.
Take a selfie with your favorite book from the challenge, and tag the library @ebonnerlibrary
You can start reading on December 5th, and you have until February 3rd to complete all four challenges.
Track your books online at ebonnerlibrary.beanstack.org or on the Beanstack app.