STEM Trailer at Pine Street Woods
Become an Earth Scientist on the trails of Pine Street Woods. The library's STEM trailer will be stopping by with microscopes, binoculars and more!
Make nature observations while out on the trails, collect soil and water samples and examine them with the equipment at the trailer. There will be a community findings board where you can log what you've found, and see what else your neighbors have found in the woods.
Bring your library card and you can even check out a set of binoculars to explore everything the woods has to offer, but get here early or we'll run out.
The STEM Trailer will be parked in the upper parking lot at Pine Street Woods near the Outdoor Recreation Center.
Participation is free and pre-registration is not required.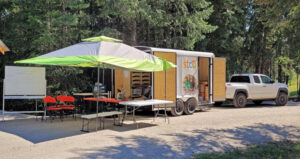 Pine Street Woods is located at 111915 West Pine Street. Directions and a wayfinding video are posted at kaniksu.org/play.