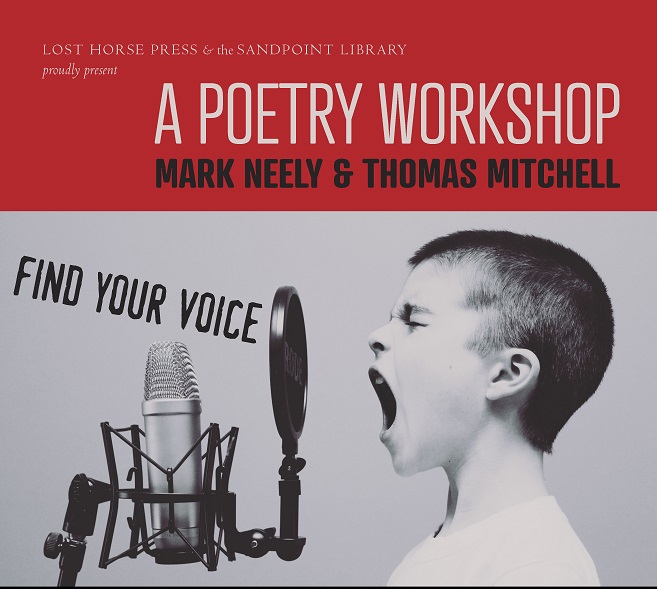 A Poetry Workshop: Mark Neely and Thomas Mitchell
Lost Horse Press and the Sandpoint Library are teaming up to offer a Poetry Workshop featuring poets Mark Neely and Thomas Mitchell on Thursday, 8 July 2021 from 10 AM until 4 PM at the Sandpoint Library. Titled FIND YOUR VOICE, the workshop will explore techniques and methods for developing your poetic voice, including themes such as Inside/Outside, establishing perspective in the poem, thinking in images, New York School poetry, and poems of praise and celebration.
Mark Neely is the winner of the 2020 Idaho Prize for Ticker and the author of Beasts of the Hill and Dirty Bomb, both from Oberlin College Press. His awards include an NEA Poetry Fellowship, an Indiana Individual Artist grant, FIELD Poetry Prize, and the Concrete Wolf Chapbook prize for Four of a Kind. He is a professor of English at Ball State University and a senior editor at River Teeth: a Journal of Nonfiction Narrative.
Thomas Mitchell is the author of Where We Arrive and two previous books of poetry, The Way Summer Ends and Caribou. He studied at CSU Sacramento with Dennis Schmitz, where he received his Masters. He earned an MFA from the University of Montana, where he worked with Richard Hugo and Madeline De Frees. His poems have appeared in many journals, including The New England Review, New Letters, Mirimar, and Valparaiso Poetry Review.
The poetry workshop is free, but donations to help offset the poets' honorariums are welcome and suggested. Registration for the workshop is required! The instructors have readings and instructions for participants that will be distributed when registration is complete. To register or for additional information, email losthorsepress@mindspring.com or call 208.255.4410.